Added value
With the pie and quiche lines from Rademaker, you can produce high-quality pies in large quantities.
Various filling solutions available
High performance and efficiency
Quick and easy conversion and cleaning
Tailor-made layout solutions
Low operating costs
PIE PRODUCTION EQUIPMENT
Rademaker produces Pie lines, Quiche lines and Pastel de nata / Egg tart lines for a very wide range of customers all over the world. Our production lines are built up from modules with proven technical concepts and are known for excellent production quality that is already starting with the precise positioning of the billets. Furthermore, the servo driven press is equipped with a unique compensation mechanism ensuring perfect shaping of the dough with a minimum amount of scrap. This is achieved by automatically adapting the bottom thickness for fluctuating weight of the dough billets. Finally, the control system can easily be set at the desired level of strokes while the system itself will take care of the overall adjustment of settings.
CAPACITIES OF OUR PIE AND QUICHE PRODUCTION EQUIPMENT
Production capacity varies per size, dough type and filling but ranges from 5,200 pieces/hour (250 mm diameter product) to 20,000 pieces/hour (80 mm diameter product). Capacity up to 40,000 pieces/hour can be reached in tandem execution. Production is possible in aluminum foils, paper containers, metal baking trays, indented baking trays and pre-moulded baking trays. Product diameters range from 50 to 282 mm.
WORKING WIDTHS
600 mm | 800 mm | 1,000 mm | 1,200 mm
Products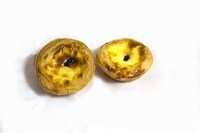 Egg tartlets/Pastel de Nata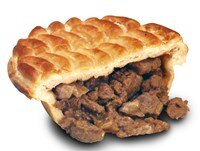 Meat pie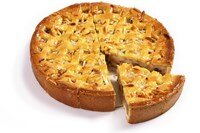 Fruit pie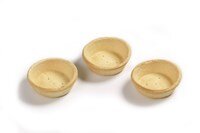 Egg tartlets/Pastel de Nata unfilled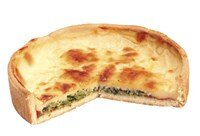 Quiche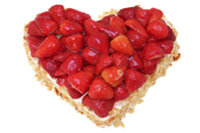 Different shaped cakes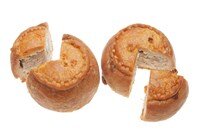 Melton pie
HYGIENIC DESIGN
The Pie / Quiche lines and Pastel de nata / Egg tart lines are designed according to the Rademaker Sigma® design guidelines. These guidelines are directly derived from various high end requirements for hygiene & cleanability such as the GMA standard and EHEDG recommendation. With excellent machine surface finishing, tilted upper surfaces, rounded frames, food approved blue plastic parts and elimated hinges and bolts, the unit will meet the highest industrial expectations for hygiene.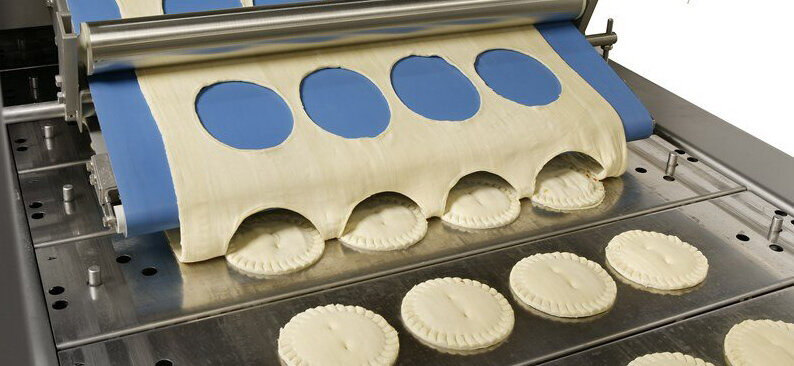 Efficiency, safety and hygiene, weight accuracy, ergonomics and maintenance were the focus aspects during the overall development. This resulted in a user-friendly line operation, enabling quick and easy changeovers and high flexibility. The Rademaker Pie line combines all these aspects and enables you to manufacture the highest quality products with a state-of-art-production line.

EXTRA INFORMATION
The Quiche production line has some differences comparing a standard Pie production line. The line is fed by a Laminator which generates a pastry dough.
The Rademaker Quiche line is unmatched when compared to other lines in preserving the effect of the pastry crust layering and handling the special liquid filling that goes into the quiche (read more).
If you want to make Pastel del Nata or Egg Tart (click here).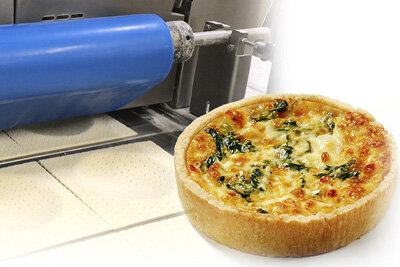 KEY ADVANTAGES OF OUR PIE & QUICHE LINE
• Product quality, efficiency and flexibility
• Quick Change-over
• Various filling solutions available
• Bespoke lay-out solutions
• Hygienic design
• Low cost of ownership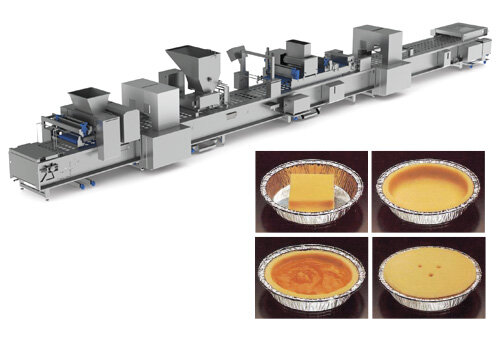 GET IN TOUCH WITH US
At Rademaker we can deliver different types of bakery production solutions for your specific needs. We are excited to be of value for you!
Are you interested in our Pie and Quiche line? Feel free to contact our sales team through +31 (0)345 543 543, send an email to sales@rademaker.nl or fill out our contact form.
We are happy in welcoming you to a partnership finding the best solution for your bakery!