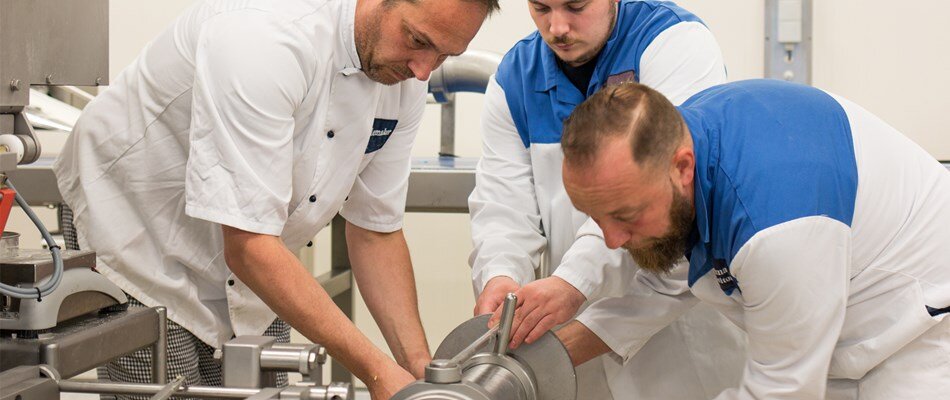 RADEMAKER ACADEMY
Quality in bakery Knowledge
Bakery Technology know-how is one of the key items required when a production line is installed and the production process is starting up. Problems occur when detailed know-how about the sheeting processes, production line operation and dough processing is lacking. This results in problems that affect the overall production costs and product quality. Besides this, bakery knowledge is shrinking, especially in industrial bakeries. More and more operators haven't got a bakery background or schooling. On top of this, the traditional bakery industry shifts more and more towards advanced sheeting technology. This obviously makes it necessary for all stakeholders to require more knowledge of this advanced way of dough processing. These reasons resulted in the establishment of the Rademaker Academy. Its goal? To preserve and share bakery knowledge through education and training, and enable maximal profitability of a Rademaker production line and ultimately the bakery.
Rademaker Academy, what is it all about?
A multifunctional team of Rademaker technologists, service engineers and commissioners developed three different training courses. All serving one main training goal; ensuring that the production line runs as efficiently as possible.
A basic sheeting technology training provides trainees, mainly Line Operators, Supervisors and Maintenance, with all the basic knowledge that is needed to operate a Rademaker production line. The training focusses for 80% on production line information while the other 20% is focusing on dough technology on the production line. The educational goal of this training is to introduce the team with the production line, enabling a smooth start up that leads to an efficient production performance.  
An advanced training is offered to Line Managers, Technicians and Process Technologists. This training focusses on machine settings and process interactions. Besides the technology basics and working on product refinement, it also includes production line operation, fine-tuning, maintenance and cleaning. Creating highly qualified teams who are able to perform basic troubleshooting on the line, with a focus on new product- and recipe development, is the educational goal of this course. After completing this course, trainees should be able to optimize the production process by themselves.
 On top of that, there is also a possibility to offer Consultancy or customized training that focusses on the improvement of production line- and process efficiency. Rademaker will perform efficiency improvement program on the production line. It focusses on three aspects: structural efficiency improvement, achieving improvement of the production line or employees, total process and Cost of Ownership analyses. This training course always starts with Rademaker analysing the production situation and process on site. Together with the customer, an analysis and determination of the problem is made, including costs and ingredient waste. From there on, a structural technical or technological solution is provided. For example, improving on line efficiency, improve the dough and product quality, or improve the total production process. The solution for these problems will be realized together with the trainees. This way, the production situation is improved to an optimum by the bakery's own team, boosting their knowledge level and confidence.
Training locations
The training courses are given by senior Rademaker technologists, Engineers or experienced commissioners. Classroom training and practical education can take place in the Rademaker Technology Centre in Culemborg, the Netherlands, or on-site at the customer's production facility. Main benefit for the customer to follow a training in the Rademaker Technology Centre is the fact that there is no downtime to the production while employees are trained. This course can also be given prior to the installation of the production line, so that an efficient and smooth production start is realized.
Preferred location for consultancy activities focusing on efficiency improvement & cost reduction is the customer production line itself. However, it is also possible to utilize the Rademaker Technology Centre for various test supporting the specific consultancy actions. Moreover, it is also possible to rent the Rademaker Technology Centre for customized training, product development or sample production. These way bakeries can avoid disturbing their own production facility. Rademaker's Technology Centre is fully equipped with state-of-the-art production lines, various tools and depositors. Rademaker technologists and Test bakers are ready to welcome and help bakeries realizing their future plans.
Interested in the Rademaker Academy? Contact our sales team: +31 (0)345 543 543.