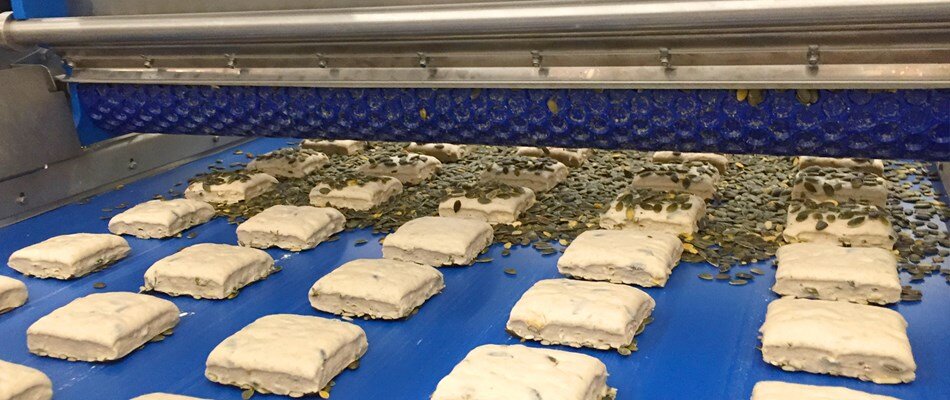 Our bakery equipment
Rademaker is able to deliver different types of bakery equipment and production solutions for your specific needs. Our bakery equipment is based on dough sheeting. With dough sheeting you are able to shape the dough into numerous kinds of high quality dough products with the highest output possible. First a continuous dough sheet is created, then the final product will be shaped. This is possible through different types of units which use shaping methods like cutting, moulding/rolling, folding and bending. Depositors are able to fill your products with a wide range of different sweet and savory fillings. To finish your products with all kind of toppings we have strewers, these strewers can decorate your product with sugar, seeds, raisins, chocolate drops, egg yolk and much more.
THE BAKERY EQUIPMENT THAT WE HAVE TO OFFER
Rademaker bakery equipment exists out of high quality stainless steel and food graded materials. Our production machines are assembled by experienced and skilled craftsman at our factories in Culemborg and Slovakia.
Before the finalized bakery equipment is shipped to the bakery factory an acceptance test is set up to make sure that the production line is ready for production. This will be done together with the customer to make sure that their bakery equipment is living up to their demanded expectations.
In the Rademaker Test Centre (RTC) and R&D Centre we are continuously testing new innovations to improve our bakery equipment. Product quality, consistency and line efficiency are aspects that we are always looking for to improve. This is how we realize the highest profitability for every production solution that we offer.