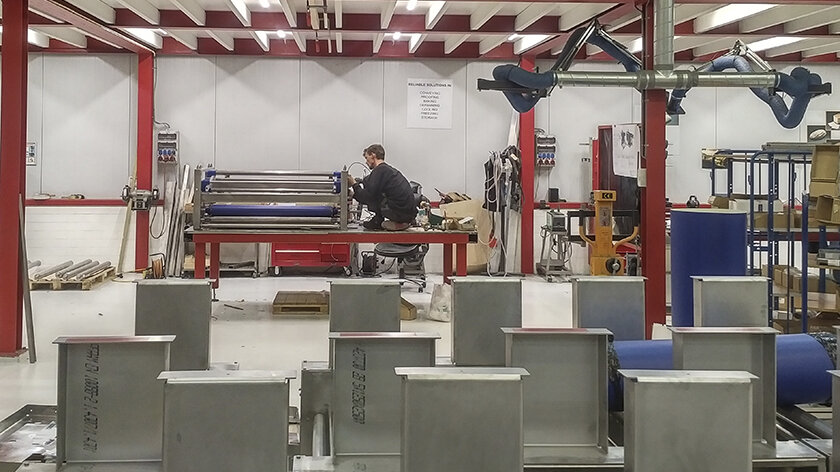 Radilinq service
Call us +31 (0)345 543 555.
E-mail office@radilinq.nl
SERVICE & SPARE-PARTS
Down time is the most expensive time there is for a bakery. The Radilinq service & spare-parts department is keenly aware of this. To make sure that down time is cut down to an absolute minimum, we provide:
Genuine Radilinq spare parts from our own manufacturing or from certified and approved suppliers.
Tailored advice on in-house stock levels of critical spare-parts.
Fast delivery of parts that are immediately needed.
Off-site support & instructions for assembly and disassembly of spare-parts
Together with our preventive maintenance, inspection & service contracts, the Radilinq service & spare-parts department provides peace-of-mind by knowing that your bakery can fall back on the only people that know how to maintain Radilinq equipment: Radilinq Modular Bakery Systems itself.
For 24/7 support contact our helpdesk at +31 (0)6 86 83 1240
If you require more information or directly want a quote, please fill in below contact form or email service@radilinq.nl
Added value
Innovative solutions for anykind of product
Tailord made lines based on you requirements
service & maintain a wide range of equipment & systems
Automate your bakery in 1 go or modulair
Radilinq offers smart, innovative solutions for anyshape
GET IN TOUCH WITH US
At Rademaker we can deliver different types of bakery production solutions for your specific needs. We are excited to be of value for you!
Are you interested in our Bread line? Feel free to contact our sales team through +31 (0)345 543 543, send an email to sales@rademaker.nl or fill out our contact form.
We are happy in welcoming you to a partnership finding the best solution for your bakery!