THREE DECADES OF EXPERIENCE
Thanks to croissant's buttery taste and delicate layering, they continue to gain popularity worldwide. Croissant production lines were among the very first Rademaker bakery production lines produced. We are proud to be known as the industry leader in flexible Croissant lines. Delivering large quantities and an excellent Return On Investment without compromising product quality. Our three decades of experience becomes evident in the excellent dough quality. Straight or C-shaped; Plain or filled croissants with the finest chocolates and fillings; all croissants can be made using the same, flexible production line with capacities and quality that will exceed your requirements.
WIDE PRODUCT VARIETY
Every region of the world has its own croissant products and therefore unique characteristics. With decades of experience, Rademaker is able to produce these different croissant types to meet our clients ever changing demands. This technology expertise is carefully applied in our various patented production solutions. Our position as the global leader in Croissant production lines is why we can assure that a Rademaker Croissant Production line will deliver the taste, texture, shape, and capacity that you and your customers expect.
CROISSANT VARIETY ON A RADEMAKER PRODUCTION LINE
Straight unfilled and filled, Bend unfilled and filled, Pinched unfilled and filled, Straight unfilled and filled Artisan, Bend unfilled and filled Artisan, Overlap pinched croissant, Duo Color, Open end filled, Long shelf life.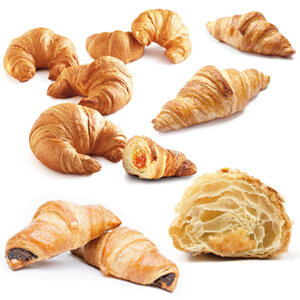 FILLED CROISSANTS
Your croissants can be filled with a wide variety of fillings; sweet or savory, semi-liquid and solid fillings, but also double fillings (duo-color) fillings with particles like ham, apple, etc. We can deliver the right depositing solution for your specific type of filling as we are able to process a large variety of filling materials. It is also possible to inject your fillings after baking when required. In that case we can deliver our injecting system that is extremely accurate.
All depositors are designed according to the high end Rademaker standards guaranteeing outstanding reliability, durability, hygiene, easy cleaning and maintenance. On top of all this, Rademaker depositors achieve best-in-class accuracy and excellent product weights. This results in an extremely cost efficient production.
Discover the rademaker moulding & filling technology click here for our croissant line.