bending and pinching
The range and diversity of croissants around the world is immense and available in a wide variety of shapes and sizes. Consumers all over the world desire all these different croissant types. The shift away from manual and semi-automated lines towards fully automatic lines can now be achieved by using Rademaker's latest expertise and technology, resulting in major improvement in product quality and reduction in manufacturing and labor costs. The challenge given to Rademaker was to produce a pinched croissant without the manual labor at the end of the line on an industrial production scale. Rademaker has risen to this challenge in 2009 with the introduction of our revolutionary Bending and Pinching technology and successful installations of fully automated Bending and Pinching systems for the traditional European 'tear-drop' style pinch. Especially for the North American market, we have designed our North American Pinching Unit. This unit is able to produce croissants with the traditional North-American overlap pinch at a higher stroke rate and in a smaller space in your bakery. Besides enormous labor cost savings, it also guarantees a perfect constant shape of all products produced.
The Bending unit is capable of handling 150 pieces per minute per product lane. It includes one drive and consists out of a number of Bend Modules to set-up a variable production. The Bending unit has a total length of 480 mm. 
The Pinching unit has got a capacity of 120 pieces per minute per product lane. Un-used models are placed outside the production zone so no pollution occurs. The Pinching Modules operate autonomous, guaranteeing efficient production. Total length of the unit is 750 mm.
KEY BENEFITS OF THE RADEMAKER BENDING AND PINCHING SYSTEM:
Modular build with space saving compact modules
Individual and automated product detection for even better and more consistent bending and pinching
Consistently shaped croissant because of symmetrical bending solutions
Synchronization for servo driven pinching actions and operator adjustable pinch dimensions (Length and width)
rademaker bending and pinching unit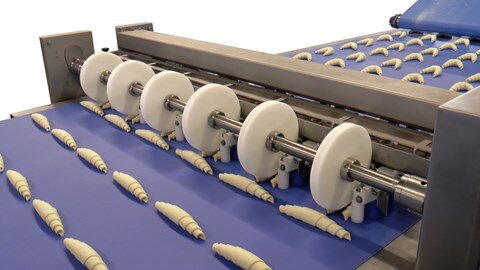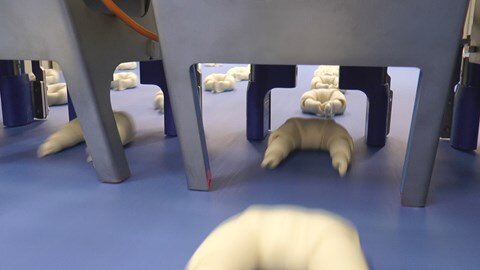 Interested in the Croissant line? Contact our sales team: +31 (0)345 543 543.