explore our complete new universal pastry line
Increasing line efficiency and high-end hygienic design were the two drivers that Rademaker's Research & Design department took to a new level during the development stage. These solutions were discussed and tested with some key customers. The result of this intensive development process is a complete new, unique and highly efficient pastry production line with the lowest cost of ownership possible. It is therefore no surprise that the bakery market welcomes the Rademaker Universal Pastry Line with open arms.
The added value of the Rademaker Universal Pastry Line:
•       Tool Assistant software and Unique Fit Tooling for fast & easy change-over
•       Cost reduction due to easy clean ability & sanitary operation
•       Efficiency improvement due to advanced process control
•       Hygienic design exceeding customer requirements
•       Improved accessibility contributes to ease of maintenance
•       Highest possible level of user friendliness
Tool Assistant
Rademaker designed the unique Tool Assistant to simplify operation and changeovers. The Tool Assistant contains a chronologic list of tools. Line configurations and tooling info can be saved, enabling easy reproducible line settings. All line and tooling data can be exported to the operator panel, a tablet or printed as hardcopy. To make the Tool Assistant even more user friendly, pop-up screens in the operator panel explain the settings.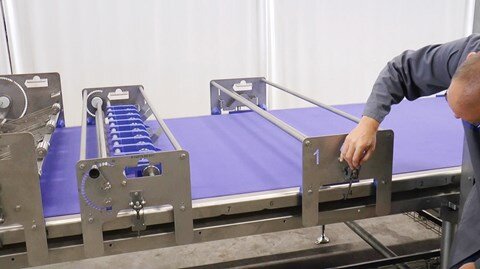 Hygienic Design
The Universal Pastry line is designed according to the highest Rademaker hygienic design standards. These guidelines are directly derived from various high-end requirements for hygiene and clean ability, such as the GMA standard and EHEDG recommendations. With excellent machine surface finishing, tilted surfaces, rounded frames, FDA approved materials, minimized hinges & bolts and numerous other items, the line is living up to the highest industrial requirements for hygiene. The elimination of recesses, cavities and dead corners is achieved. The machine's open design enables easy cleaning without reducing the operator's safety. Belt lifters and retractable belt tensioners achieve accessibility for cleaning and inspection.
Apart from unmatched product quality and practically zero risk for contamination, the overall combination of the above improvements results in reduced cleaning time, increased production time and strongly reduced maintenance. Needless to say that this new Rademaker production line is fully designed and approved for wet cleaning, which was introduced in the industry by Rademaker over 25 years ago.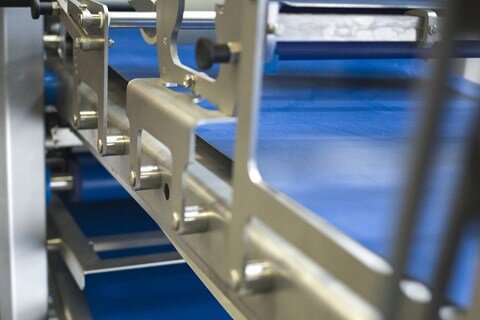 Functionality
Rounded edges and fully open covers on both sides of each unit are applied throughout the production line. The best possible accessibility of the process is achieved by optimizing the space between the working stations. Tools that are attached to the machine, are mounted with standoffs. These standoffs have a minimal distance of 1 inch for cleaning purposes. Overall safety is guaranteed by the application of safety locks. Lightweight safety covers with extra handles enable ergonomic operation.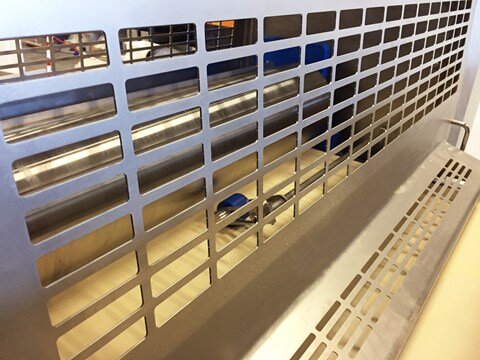 Efficiency & Functionality
The overall set-up of Rademaker's new Universal pastry line is designed for high production efficiency. Easy removable tools, reduced change parts, exchangeable scrapers and bins, and various options to minimize the required cleaning efforts enable this.
Efficient, error free operation and tool changeover is realized by applying Unique Fit Tooling. Because of the lightweight and more compact tooling, handling and detaching the tools is as easy as possible and can be done by one person.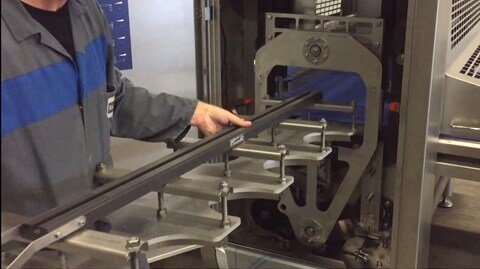 Sanitary operation
Sanitary operation is achieved by using lifetime- or non-lubricated bearings throughout the direct product zone. Direct-drive motors are positioned outside the product zone as much as possible. All motors contain food approved H1 lubricants, this result in zero risk for lubrication contamination. Outside the direct product zone sealed bearings are applied which can be lubricated during or after the production run. The rollers of the reduction stations are kept as clean as possible because they are fitted with wear resistant roller scrapers which were selected after extensive testing. To achieve an easy to clean surface the machine is executed with round edges, tubes, ducts, angled surfaces and a smooth surface finishing (Ra <0.8) in the production zone.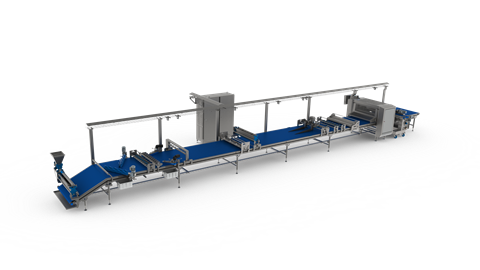 Conclusion
With Rademaker's new Universal Pastry line, (semi) industrial bakeries can produce all kinds of pastries and laminated products in any shape and size, unfilled or filled. A significant reduction in cost of ownership is achieved through numerous improvements such as efficient and error free tooling change over, low maintenance and simplified intuitive operation. Besides this, hygienic machine design is taken to a new level.
Interested in the Universal Pastry line? Contact our sales team: +31 (0)345 543 543.